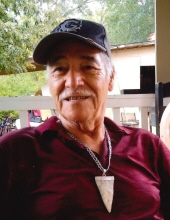 Obituary for Alejandro Garcia Perez
Alejandro "Bochito" Garcia Perez, age 72, of Jacksonville, passed away Saturday, December 29, 2018. He was born July13, 1946 in Mexico.
Alejandro was preceded in death by his beloved wife, Ambrocia "Bochita" Garcia Sauceda and three brothers, Hijinio, Roberto and Elidio Garcia Perez.
Left to cherish his memory are his children, Alejandro Garcia, Isabel Garcia, Elda Garcia and Julia Ortiz, all of Jacksonville, Belen Garcia of Mexico, Juan Garcia and Paulina Garcia, both of Arlington; his brothers, Fernando and Juan Garcia Perez of Mexico. He is also survived by 21 grandchildren: Karla Hernandez, Noemi Mendez, Edgar Lara, Misael Lara, Anahi Hernandez, Jordan Mendez, Juan Garcia, Miguel Sanchez, Jasmin Ortiz, Aaliyah Garcia, Areli Lara, Emily Ortiz, Aaron Mendez, Alexis Garcia, Melanie Lara, Carlos Hernandez, Aalynah Garcia, Jacqueline Sanchez, Liam Garcia, Leonardo Mendez and Yaileen Sanchez.
A visitation will begin on Monday, December 31, 2018 and friends are cordially invited to visit with Alejandro's family from 4 to 6 o'clock in the evening at Autry Funeral Home, Jacksonville. The Holy Rosary recitation will begin at 4:30 p.m.
Previous Events
Visitation
Autry Funeral Home - Jacksonville
1025 Southeast Loop 456
Jacksonville, TX 75766