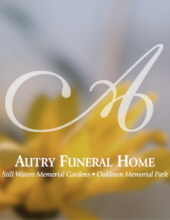 Obituary for Avinelle (Nell) Abston Sliger
Graveside services for Nell Sliger will be held at 10 o'clock in the morning Friday, May 10, 2019 at Rosedale Cemetery in Ada, OK with Jerry Wells and Harold Ware of First Baptist Church officiating. Mrs. Sliger was born July 19, 1931 to Albert Cecil Abston and Mary Leah Bradley Abston. She went to be with her Heavenly Father on May 4, 2019.
Nell was blessed to have been born into a Christian family, with four loving and caring grandparents, and being raised by her parents with guidelines of biblical values. She accepted Jesus as her personal Saviour at age 12 years. She loved serving the church, starting at a very early age, as church clerk for many years, teaching in Sunday School, Vacation Bible Schools, and also playing piano when needed. She was blessed even more when she and her beloved husband, Kenneth C. Sliger, were married on December 14, 1950, he also coming from a very devoted Christian family. They were very blessed to have been given 68 years together, and a blessing of God by having one wonderful son, Kenny.
Mrs. Sliger graduated from Vanoss High School in 1949, immediately being employed by Prudential Insurance Company of America as a secretary. She was employed by them for a total of nine and a half years until the company relocated to Lawton, OK. After her son, Kenny, was born, she remained at home, being a housewife and mother, which was her main focus in life, only second to serving the Lord.
When Kenny was 9 years old, she began working again and was employed by First National Bank and Citizens Bank, both of Ada. She worked until her husband retired in 1982. They then enjoyed being with their two beautiful little granddaughters, Jaclyn and Jenny, and traveling and touring our wonderful country.
In their declining years, both being in bad health, in June 2015, they moved from Baptist Village, Ada, to Jacksonville, TX in order for their granddaughter, Jaclyn, to care for them.
She was preceded in death by her son, Kenny; parents, Cecil and Mary Leah Abston; two sisters, Gela Cox and Janeta Abston; and two nephews, Randy Cox and Byron Cox.
Survivors are her loving husband, Kenneth C. Sliger, VA Center, Sulphur, OK; granddaughters, Jaclyn and Jon Tyler, Jacksonville, TX; Jenny Melchor, Irving, TX; one great-grandson, Bradley Melchor, Irving. Also, one nephew, Anthony Cox and wife Kris of Weatherford, OK; and nine cousins.
In lieu of flowers, memorials may be made to "Faith in Action," First Baptist Church, Ada, OK 74820.