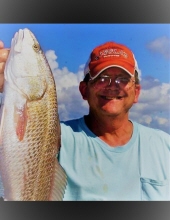 Obituary for Bill Reynolds
Bill Reynolds, age 64, of Frankston, passed away Sunday, March 10, 2019.
He was born July 13, 1954 in Jacksonville to James and Wanda (Vermillion) Reynolds.
Bill was preceded in death by his parents and stepmother, Merine Reynolds.
Bill worked in maintenance and construction and retired from TDCJID as Region 2 Maintenance Supervisor. He had a passion for fishing and always loved and took care of his family.
Left to cherish his memory is his wife Sharon Reynolds of Frankston; son, Michael Reynolds and wife Candace of Frankston; brother, Jim Reynolds and wife Charlcie of Corsicana and sister, Kathy Palafox and husband Gerald of Tyler. He is also survived by two grandchildren, Sarah Mae Reynolds and Lynnsey Kae Reynolds; and several nieces and nephews.
A private service will be held at a later date.