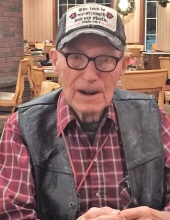 Obituary for Burke Hazelrigg
A funeral service for Burke B. Hazelrigg, age 99, of Jacksonville, is scheduled at 3 o'clock in the afternoon Friday, April 19, 2019 at Autry Funeral Home Chapel in Jacksonville. Bro. David Hallum will officiate. Mr. Hazelrigg will be laid to rest at Still Waters Memorial Gardens in Jacksonville.
Burke passed away, suddenly after a very short illness on Saturday, April 13, 2019 in Tyler, surrounded by his son, grandchildren and close friends.
He was born December 8, 1919 in Grand Rapids, Minnesota to Glenn and Gladys (Taylor) Hazelrigg.
Mr. Hazelrigg was a retired teacher and Consumers Power employee. He was best known for his life-long hobby as a puzzle maker, his puzzles often containing Biblical quotes. Burke was a member of the Afton Grove Baptist Church.
He was preceded in death by his parents; first wife, Genevieve Hazelrigg; his second wife; Nora Hazelrigg; a daughter, Aurora Hough; and a son, Brian Hazelrigg.
Left to cherish his memory are his son, Meredith Hazelrigg and wife Junko, of Tokyo,Japan; daughter-in-law Lavonne Hazelrigg of Allegan, MI; son-in-law, Gene Hough and wife Pat, of Allegan, MI; five grandchildren, Blair (Charity) Hough, Blaque (Cari) Hough, Denise Hazelrigg, Seth Hough, and Ken Hazelrigg; 13 great-grandchildren; and numerous nieces and nephews. He will be missed by his dear friends: Mary Jane Barr, Charlie Walker and wife Carolyn, all of Jacksonville, and Keith Wright and wife Carolyn of Tyler.
Pallbearers will be Meredith Hazelrigg, Ken Hazelrigg, Seth Hough, Charlie Walker, Keith Wright and Blaque Hough.
Cemetery Details
Location
Still Waters Memorial Gardens
1025 SE Loop 456
Jacksonville, TX 75766