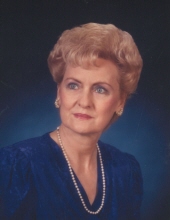 Obituary for Cleta Spivey
Cleta DeFoor Spivey of Jacksonville passed away at Hospice of East Texas in Tyler on Monday, June 24, 2019 at the age of 83. She was born Tuesday, November 5, 1935 in Palestine to M. C. and Noveline Turner DeFoor.
A celebration of Cleta's life is scheduled for 2 p.m. Friday, June 28, 2019 at Autry Funeral Home Chapel in Jacksonville with burial following at Still Waters Memorial Gardens in Jacksonville. Visitation will be one hour prior to the service.
Cleta grew up in Palestine but had to move to Jacksonville her senior year when her father, a Petroleum Engineer was transferred with United Gas Pipeline. She was a proud member of the Palestine Wildcat Band playing the clarinet. While under the direction of Mr. Roy Wallace, the Wildcat Band marched in the inaugural parade in Austin for the 37th Governor of the State of Texas, Allan Shivers. It was an honor for Cleta to be a part of Texas history.
She continued her love of being in the band and playing the clarinet, as she joined the Jacksonville Fightin' Indian Band and graduated from Jacksonville High School. Cleta graduated from Tyler Junior College and was a proud member of the Apache band, still playing the clarinet. She marched with the Apache band in 1954 in the Tyler Rose Festival parade.
Her family started attending First Baptist Church in Jacksonville where she met her husband, James at a Sunday School party at the Dorman House. When James first saw Cleta coming in the door of the church, he said that she was the prettiest girl with the prettiest blonde hair and prettiest blue eyes. They settled in Jacksonville to raise their children, Debra "Debbie" and Tim, after James was discharged from the Army after the Korean War.
Cleta was supportive of her family and her children's interests. She made majorette uniforms for Debbie and took Tim to piano and organ lessons. She was a member of the Band Booster Club and PTA. Cleta attended basketball games with her husband when he had to referee. She was a feisty lady who was protective of her family. At one of the basketball games, a man sitting in front of her was disagreeing with the referee who was James. Cleta rolled up two programs, and bopped him on the head and told him to hush because the referee was her husband.
She retired from Jacksonville Independent School District where she worked as the executive secretary to several superintendents. She also retired from the Jacksonville Public Library. In the 70's and 80's, she lectured for Weight Watchers. Cleta and James are charter members of Tabernacle Baptist Church in Jacksonville.
Debbie said that she and her mom were best friends. They spent many fun days of shopping, going to concerts, taking road trips out of town, and just enjoyed hanging out doing girl stuff such as getting their hair done or getting mani/pedis. I admired my mom and she was my very best cheerleader. She was the wind beneath our wings. Our mom was beautiful inside and out. She lived life to the fullest and loved her family and friends.
Tim respected his mother and enjoyed spending time with her attending the Rose Festival Coronation and Queen's Tea or hanging out shopping for antiques. She enjoyed going with Tim when he would play at various churches and organizations. Tim said Mother was the best encourager a son could have.
Cleta was a loving and supportive wife, mom, mother, grandmother and great-grandmother. She was the absolute glue that held our family together. She loved spending time with her granddaughters, Monica and Jennifer and listening to music with them. Monica and Jennifer picked out two of her favorite songs for her service. Known to the girls as Grandma, she enjoyed sewing clothes for the girls while they were growing up. She dearly loved her grandchildren and great-grandchildren, as they brightened her life.
Cleta is survived by her loving family and beloved husband of nearly 64 years, James Spivey of Jacksonville; daughter, Debra Cleta Spivey of Dallas; son, Tim Spivey of Palestine; grandchildren, Monica Prince and husband, Randy Prince of Dallas, Jennifer Kasiri and husband, Dr. Alex Kasiri of Dallas, Joshua Shoemaker and wife, Mandy of Midland, and Ryan Davis and wife, Morgan of Tyler; great-grandchildren, Pacey DeBoo, Parker Prince, Joshua Kasiri, Jacob Kasiri, Alex Kasiri Jr., Hunter Kasiri, Aubrey Shoemaker, Reagan Shoemaker, Parker Davis, and Blynn Davis; nephew, Dr. Brandon Roy and wife, Tracy of Raleigh, North Carolina and niece, Leah Roy and husband, Bill of Winston Salem, North Carolina who are the children of her late sister, Darla DeFoor Roy; maternal aunt, Bobbye Turner Snow and husband, Jim Snow of Arlington; and numerous other nieces, nephews, and cousins too many to list, but very much loved.
She was preceded in death by her parents, M. C. and Noveline Turner DeFoor; daughter-in-law, Kay Fair Spivey; and sister, Darla DeFoor Roy.
Previous Events
Visitation
Autry Funeral Home - Jacksonville
1025 Southeast Loop 456
Jacksonville, TX 75766
Service
Autry Funeral Home - Jacksonville
1025 Southeast Loop 456
Jacksonville, TX 75766
Cemetery Details
Location
Still Waters Memorial Gardens
1025 SE Loop 456
Jacksonville, TX 75766