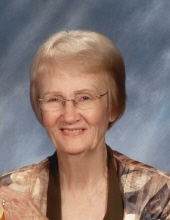 Obituary for Darline Lindsey
Darline Lindsey, beloved mother of Ralph Lindsey, Jr. and Brenda Kay Griffin, passed away at the age 84, on April 4, 2019.
She was born October 27, 1934 in Alex, Oklahoma to the late Dooley and Alice Bivens.
Darline faithfully worked alongside her husband in the fields. She also worked at Williams Grocery, Rogers Grocery and Alto Food Center in Alto. She was a past member of the Ladies Auxiliary of the Alto Volunteer Fire Department and was a custodian at Hilltop Baptist Church for many years. Darline retired as a rural mail carrier for the U.S. Postal Service.
She was preceded in death by her husband of 62 years, Ralph Lindsey; daughter, Marie Ann Lindsey; son-in-law, Travis Barron; nephew, D.C. Simmons and numerous aunts and uncles.
Left to cherish her memory are her son and daughter-in-law, Ralph and Jill Lindsey of Jacksonville; daughter and son-in-law, Brenda Kay Griffin and husband Chris of Alto; and sister and brother-in-law, Diane and David Ruby of Forest. She is also survived by seven grandchildren; Brandon Barron and wife Betsy, Michael Lindsey and wife Shanta, Shana Lindsey, Aaron Lindsey and wife Adriene, Paxton Lindsey and wife Juliann, Suzanne Jackson and husband Anthony and Michael Watson; 15 great-grandchildren: Ty, Justin, Austin, Colton, Easton, Blakely, Preston, Peyton, Presley, Paisley, Pemberley, Pierceston, Brooke, BrieAnn and Travis; and several nieces and nephews.
Visitation will begin on Sunday, April 7, 2019 and friends are cordially invited to visit with the Lindsey family from 5 to 7 o'clock in the evening at O.T. Allen Funeral Home, Alto.
A funeral service is scheduled at 2 o'clock in the afternoon Monday, April 8, 2019 at Hilltop Baptist Church in Alto. Bro. Donnie Barron, Rev. Steve Edwards and Rev. Josh Lindsey will officiate. Mrs. Lindsey will be laid to rest at Old Palestine Cemetery.
Pallbearers will be Ted Moore, Michael Lindsey, Aaron Lindsey, Paxton Lindsey, David Ruby and Brandon Barron. Honorary pallbearers are Bill Lindsey, Bob Cherry, Dwight Lyons, Jack White and Terry Ted Moore.