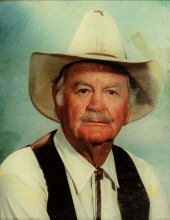 Obituary for Dudley Warrington
A funeral service for Dudley Warrington, age 94, of Frankston, is scheduled at 2 o'clock in the afternoon Tuesday, March 12, 2019 at Autry Funeral Home Chapel in Frankston. Rev. Jimmy Hopper will officiate. Mr. Warrington will be laid to rest at Wofford Cemetery in Frankston.
He passed away Monday, March 4, 2019 in Frankston.
Dudley was born January 30, 1925 in Poynor to Edward and Jewel (Russell) Warrington.
He retired from Texas Utility after 42 years. He began as a climber and retired as a supervisor. He then raised cattle and was a 32nd Degree Master Mason.
He was preceded in death by his parents; brothers, Herman, Billy Joe and Ray Warrington; sisters, Louise Dansby, Lorena Davis, Laquita Burdine and June Williams.
Left to cherish his memory are his children, Russell Warrington and Dudley Warrington, both of Frankston and Amanda Ruth Wise and husband Larry of AL. He is also survived by his sister, Martha Hopper and husband Jim of San Antonio; grandchildren, Trinity Wise and Chris Dunlap; and numerous nieces and nephews.
Pallbearers will be Russell Warrington, Dudley Warrington, Dennis Gee, Larry Wise, Steven Miller and Dakota Wise. Honorable pallbearers are Jim Hopper and Bob Sandlin.
Visitation will begin on Monday, March 11, 2019 and friends are cordially invited to visit with Dudley's family from 7 to 9 o'clock in the evening at Autry Funeral Home, Frankston.
Previous Events
Visitation
Autry Funeral Home - Frankston
East 379 Pine Street
Frankston, TX 75763
Service
Autry Funeral Home - Frankston
East 379 Pine Street
Frankston, TX 75763