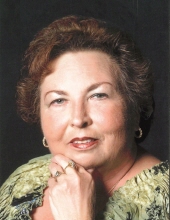 Obituary for Gail Janella Terrell
A funeral service for Gail Terrell age 71 of Jacksonville, is scheduled at 10 o'clock in the Morning Saturday, January 11, 2020 at Autry Funeral Home Chapel in Jacksonville. Dr. David Hallum will officiate. Mrs. Terrell will be laid to rest at 1:00 pm, Monday, January 13, 2020 at the Terrell Family Cemetery (Ryan Cemetery) in Tarkington Prairie near Cleveland.

Mrs. Terrell passed away Thursday, January 9, 2020 at her home.
Gail was born May 30, 1948 in Orange, TX to Jim and Ravis (Richardson) Berry.
Gail was fondly referred to as the Rocking Chair Lady for many years. She was an active member of Afton Grove Baptist Church. Gail was always willing to help anyone she knew and known to go above and beyond.
She was preceded in death by her parents; daughters, JoAnn Marie Terrell Heard and Cynthia Ann Terrell; brother and sister in-law Bill and Laura Richardson and step sister, Arlene Hensley.
Left to cherish her memory are her husband, Loyd Terrell of Jacksonville, son, James Terrell, 5 grandchildren, Misty Dodson, Joshua Heard, Ty Terrell, Austin Peña Terrell, Autumn Terrell, and 2 great grandchildren, Ace and Eva. She is also survived by many nieces and nephews and a loving church family.
Pallbearers will be Roy Terrell, Ty Terrell, Quincy Smith, Burnell Smith, Henry Thain, Johnny Williams, Kenny Hart and Jason Odom.
Visitation will begin on Friday, January 10, 2020 and friends are cordially invited to visit with Gail's family from 5 to7 o'clock in the evening at Autry Funeral Home, Jacksonville.