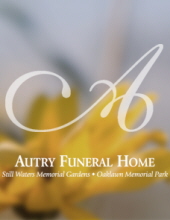 Obituary for Gerald Ray Cox
A graveside service for Gerald Ray Cox, age 76, of Rusk, is scheduled at 2 o'clock in the afternoon Monday, December 31, 2018 at Myrtle Springs Cemetery in Ponta. Rev. Andy Cox will officiate. Services are under the direction of Autry Funeral Home, Jacksonville.
Mr. Cox passed away Friday, December 28, 2018 in Rusk.
He was born October 31, 1942 in Jacksonville to Lloyd Freeman and Gracie (Gray) Cox.
Gerald was employed by Cherokee County Precinct 4, Road and Bridge.
He was preceded in death by his father, sister and brother-in-law, Barbara and Tony Delaney.
Left to cherish his memory is his wife, Lela Cox; daughter, Dina Larson, and mother, Gracie Cox, all of Rusk. He is also survived by grandson, Bryan Hobbs of Rusk; granddaughter, Brittney Larson of Tyler; great-grandson Ethan Hobbs of Rusk; and great-granddaughter, Amber Rozell of Tyler.