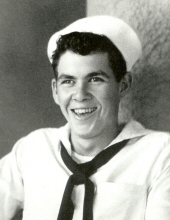 Obituary for H. G. "Nick" Nichols
Harold Grant "Nick" Nichols passed peacefully at home on November 27, 2018. He was born on July 25, 1932 in LaRue, Texas to Roy Gipson Nichols and Virginia Pearl (Gideon) Nichols. Their family was complete with the birth of his beloved sister, Betty Jo (Boles).

Nick joined the Navy at the young age of 17 and served our country during the Korean War as a Machinist Mate Third Class aboard the USS Frank E. Evans (DD 754) from 1950-1953.

After returning from his service in the Navy, Nick met and married the love of his life, Billie Janet Purifoy of Hawkins, Texas on December 4, 1954. They met when he was a lifeguard at Tyler State Park and new instantly that they would spend the rest of their lives together.

The many job opportunities Nick undertook in his early career spurred him to earn an Associates degree attending classes at night at Kilgore College. He never met a problem he wasn't interested in solving. He
was a welder, farmer, machinist, draftsman, business owner and later in life taught himself computer skills which fueled his passion of genealogy research. He took pride in "figuring things out." Nick designed and built a uniquely beautiful three-story log home in Frankston that was visited for years by individuals who heard of this home and stopped by for a tour.

Nick and his business partner Dan Hunter owned and operated H. G. Nichols Construction Company from 1977 until they sold the company and retired in 2000. Through years of "the good, the bad and the ugly", H. G. Nichols Construction persevered and survived the wake of the 1979 energy crisis and the severe global economic recession in the 1980s.

Longing to reconnect and "tell stories & drink beer" with friends from time served in the Navy, Nick spent countless hours on the telephone with operators tracking down his old shipmates. In 1992 Nick organized the first reunion of the USS Frank E. Evans Association. 26 years later and reunions held from coast to coast and Australia/New Zealand, the Association's membership continues to grow, all because of Nick's determination to reconnect with friends for life.

Nick and Billie shared a loving life, filled with hardships, adventures and lots of dancing. They sprinkled each day with a steady dose of teasing and laughter. One of the keys to Nick's longevity, in addition to having Billie by his side, was he lived every day with a positive and inquisitive mental attitude. He lived the Golden Rule and was one of the kindest and gentlest people you would ever meet. "If you don't love everyone, you can't be like Christ" was his moto. It's relatively easy to go out of your way for a friend, but Nick routinely helped acquaintances, strangers, widows or anyone down on their luck. A current member of First Baptist Church of Frankston, a Master Mason of the William Foster Lodge, a former Frankston ISD School Board member, former volunteer fireman and coach to his children's sports teams, Nick was always giving back to the community he loved.

In addition to his parents, Nick was preceded in death by his son, Roderick Nichols. He is survived by his loving family including wife, Billie Nichols; sister, Betty Jo Boles; son, Eric and wife Martha Nichols, daughters, Jennifer Nichols and Stacey Nichols. His grandchildren, Erica Nichols, Bryant Nichols, Kacey Ivie, Grant Ivie and great grandson, Braydon Ivie called him "Pap."

Nick enjoyed good health for most of his life. However, recently he required healthcare support. The family would like to extend our heartfelt gratitude to Nick's caregivers: Dr. Ramiro Vallena, Cindy Brown and her amazing team of loving caregivers, the wonderful staff at Atria Copeland and Hospice of East Texas.

Visitation is scheduled for 1:00 p.m. on Saturday, December 1, 2018 with a memorial service at 2:00 p.m. at First Baptist Church of Frankston with burial to follow at Frankston Cemetery. In lieu of flowers, donations may be made in the name of Harold G. Nichols to the USS Frank E. Evans Association, 2286 Morgan Road, Carlsbad, CA 92008 or Hospice of East Texas, 4111 University Blvd, Tyler, TX 75701.

Our family can't begin to express how much we will miss Nick but we also know he led a wonderful life.
We celebrate his life and continue his legacy in all that we do. Nick Nichols was a devout Christian, loving husband, beloved father, adoring grandfather & great grandfather, treasured brother and uncle, selfless
and faithful friend to everyone he encountered.
Previous Events
Visitation
First Baptist Church
408 Garner Street
Frankston, TX 75763
Service
First Baptist Church
408 Garner Street
Frankston, TX 75763
Cemetery Details
Location
Frankston City Cemetery
Frankston , TX 75763