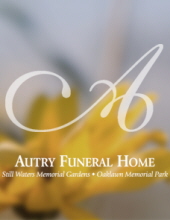 Obituary for Hazle "Ruth" Smelley Hamilton
Hazle "Ruth" Smelley Hamilton, born June 14, 1925 to M.L. and Ada (Causey) Smelley, entered eternal life on Wednesday, September 9, 2020. She was 95 years old.
A graveside service is scheduled at 2 o'clock in the afternoon, Sunday, September 13, 2020 at Larissa Cemetery in Jacksonville. Services are under the direction of Autry Funeral Home, Jacksonville.
Ms. Hamilton was a homemaker and a member of First United Methodist Church in Hillsboro. She was one of the first pioneers and one of the first presidents of North Texas Airstream Community settlement, having resided there for 28 years. She designed the entranceway to NTAC, an airstream only community, with an arch spanning the entranceway. Ruth and her late husband, W.D., loved traveling throughout the United States in their airstream trailer. After the passing of W.D., Ruth continued to travel until 2005.
She was preceded in death by her parents; husband W.D. Hamilton, son Jimmy Ray Hamilton; infant twins Regan and Ray Ann Hamilton; brother Douglas Smelley and sister-in-law Juanita Hash.
Left to cherish Ruth's memory are several nieces and nephews and special friend Michael Mauzy.