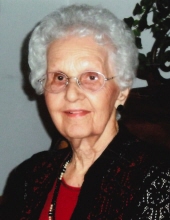 Obituary for Helen J. Ray
Helen J. Ray entered eternal life on September 13, 2020. A visitation for Helen's family and friends will be held from 1 p.m. to 4 p.m. on Thursday, September 17th at Autry Funeral Home in Jacksonville. A funeral service will be held at 1 p.m. Friday, September 18th at Shiloh Baptist Church in Waldo, Arkansas with Dr. Elton McCann and Stephen McCann officiating.
Mrs. Ray was born October 17, 1918, in Stamps, Arkansas, dying at the age of 101 in Jacksonville, TX. During her lifetime she worked in sales, church work, homemaker and was known for great cooking and hospitality.
She was preceded in death by her husband of 61 years, Donald L. Ray. Before moving to Jacksonville in 1982, most of their married life was spent in Arkansas where they were active members of Baptist churches as well as of First Baptist Jacksonville. She was a woman of faith and endeavored to pass on a legacy of faith to her children and grandchildren.
After moving to Jacksonville, she enjoyed being involved in several volunteer organizations: HOPE Meals on Wheels, Golden Jubilee, VBS, assisting church secretaries at 1st Baptist Church, entertaining friends and family with home cooked meals.
Also preceding her in death were an infant daughter, Elizabeth Ann and her parents C.M. and Ruth Jackson of Stamps, AR; four brothers: Willis, Owen, Leslie and Youman Jackson; three sisters: Nora Smith, Ruth Lewis and Corine O'Dell.
She is survived by one brother, Rev. Robert Jackson of El Dorado, AR and one sister, Hazel Marie (Ms. Edwin Waddell) of North Little Rock, AR and a host of nieces and nephews.
Left to cherish her memory are her daughters, Linda McCann (Elton) of Jacksonville and Elva Leech (David) of Lewisburg, WV. Her grandchildren are Steve McCann (Teresa) of Camden, AR, Nathan Leech of Lewisburg, WV, Beverly McCann Potter (Mike) of Clearwater Beach, Fl; Dana McCann Arnett (Cass) of Austin, Gabrielle Leech Bryant (Stephen) and Rachel Danielle Leech Murphy (Jamie) of Lewisburg, WV. She is also survived by eight great-grandchildren: Nicole Hendriks (Justin) of Calgary, AB, Canada, Ryan (Allie), Stephanie and Lucas McCann of Camden, AR, Alexi and Sean Potter of Newark, NJ, Caris and Ember Arnett of Austin; and great-great grandchildren Mason and Peyton Hendriks of Calgary, Canada.
Honorary pallbearers will be Mike Jackson, Barry Jackson, Bobby Jackson, Charles Jackson, Nathan Leech, Ryan McCann, Donnie Ray, Larry Ray and Tommy Spradlin.
Memorials contributions may be made to Lifeword Media Ministries, P.O. Box 6, Conway, AR 72033-0006 or St. Jude Children's Research Hospital.