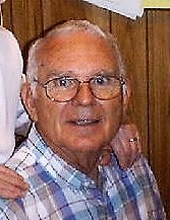 Obituary for Jack Edward Orbison
A funeral service for Jack Edward Orbison, age 92, of Jacksonville, is scheduled at 2:30 o'clock in the afternoon Tuesday, January 8, 2019 at Autry Funeral Home Chapel in Jacksonville. Clayton Arnold and Holton George will officiate. Visitation will begin at 1:30 PM at Autry Funeral Home in Jacksonville and burial at Myrtle Springs Cemetery in Ponta, Texas.
Mr. Orbison passed away Friday, January 4, 2019 in Conroe. He was born October 29, 1926 in Megargle, Texas to Thomas Edward and Ruth (Rogers) Orbison.
Mr. Orbison was a Church of Christ Preacher, he served in the U.S. Navy during World War II.
He was preceded in death by his parents; his wife, Tola Orbison; and brothers Guy Orbison and Paul Orbison and sister, Nina Robinson.
Left to cherish his memory are his sons, Steve Orbison (Rita) of Corsicana, Tom Orbison (Caron) of Jacksonville, Tim Orbison (Libbie) of Gurley AL; daughters, Janice McCain (David) of Mt. Pleasant, Barbara Bailey (Brett) of Magnolia, Texas. He is also survived by 13 grandchildren; numerous great grandchildren, great-great grandchildren, nieces and nephews.
Pallbearers will be his grandchildren
Visitation will begin on Tuesday, January 8, 2019 and friends are cordially invited to visit with Mr. Orbison's family from 1:30 to 2:30 in the afternoon at Autry Funeral Home, Jacksonville.
Rather than customary condolences, memorials may be made to Myrtle Springs Perpetual Care Fund in memory of Jack and Tola Orbison.
Cemetery Details