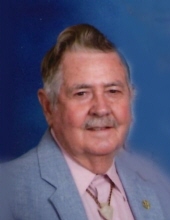 Obituary for James W. Odom
James Odom, born December 16, 1931 in Mixon, passed away Saturday, January 4, 2020 in Jacksonville. He was 88 years old.
A funeral service is scheduled at 2 p.m. Tuesday, January 7, 2020 at Autry Funeral Home Chapel in Jacksonville. Rev. Wayne Thompson and Dr. Edwin Crank will officiate. Mr. Odom will be laid to rest at Resthaven Cemetery.
Visitation will begin on Monday, January 6, 2020 and friends are cordially invited to visit with James' family from 5 to 7 o'clock in the evening at Autry Funeral Home, Jacksonville.
James resided in Enterprise Community. He was a self-employed painter, having retired after 38 years. He was a member of Cornerstone Baptist Church and served as a deacon for many years. He was also a member of Jacksonville Lodge #108.
Mr. Odom was preceded in death by his parents, Clarice and Anice Odom; brother, Charles Odom; son, Timothy Ray Odom; and grandson, Colton Pike.
Those left to cherish his memory are his loving wife of 66 years, JoAnn Odom of Jacksonville; children: Debra Ann Pike and husband David, Larry James Odom and wife Terry, and Rickie Lee Odom and wife Lisa, all of Jacksonville. He is also survived by six grandchildren: Meagan Pike-Dean, Alisha Odom McPike, Amanda Odom Beard, Timothy Odom, Adam Odom, and Selena Odom Monk.
Pallbearers will be David Pike, Adam Odom, Timothy Odom, Junior McPike, Richard Baggett, Bruce Baggett, Ron Odom and Ken Odom.
Honorary pallbearers are Bobby Bivens, Leland Priestly, Stuart McAnally, and members of Fellowship Sunday School Class at Cornerstone Baptist Church.
Memorials may be made to Choice Hospice, 1901 Rickety Lane, St. 103, Tyler, TX 75703 or Cornerstone Baptist Church, 1720 S. Bolton, Jacksonville, TX 75766.