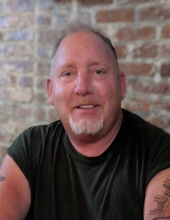 Obituary for Jeffry Woody
Jeffry Woody, age 54, of Flint, passed away on Monday, July 8, 2019. He was born on February 6, 1965 in Longview, Texas.
Jeffry was a graduate of Troup High School. He served in the U.S. Marines for over 12 years serving in Desert Storm and Desert Shield. He enjoyed darts, pool, dancing, singing karaoke and was a great cook! He especially loved hunting and fishing. Every year during squirrel season, he would go out by himself and tent camp for 2 weeks. Jeffry was a jack of all trades and there was nothing that he couldn't do. He was a great teacher who taught his children the life skills that molded them into the adults they are today. Jeffry was the life of the party and will be missed by so many.
He was preceded in death by his niece, Katie Britton; grandparents, Merrill and Carlean Woody and A.E. and LaRuth Helstrom; and aunt, Jeri Campos.
Left to cherish his memory is his father, Jackie Woody Sr. and wife Lillie of Normangee; mother, Pat Hillman of Rusk; son, Zack Woody and wife Leah of LA; daughters, Brittany Woody of Spring and Jesse Woody of MS. His siblings are Jackie M. Woody Jr. and wife Anita of Rusk, Jamye Woody and wife Liz of Flint; Dana Hilman and wife Mari of Chandler, Lori Berry and husband Chris of Palestine, and Ginger Oldham of Palestine. He is also survived by his "Aint" Rae Helstrom of Berryville; grandchildren, Austin Davis Addison Musick and one baby girl on the way; as well as numerous nieces and nephews.
A funeral service is scheduled at 2 o'clock in the afternoon, Friday, July 12, 2019 at Autry Funeral Home Chapel in Frankston.
Previous Events
Service
Autry Funeral Home - Frankston
East 379 Pine Street
Frankston, TX 75763