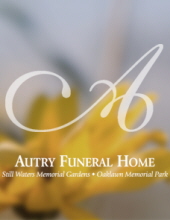 Obituary for Maggie Louise Lutz
Maggie Louise Lutz, of San Angelo, was born and passed into the arms of Jesus on Thursday, September 3, 2020.
She was preceded in death by her grandfather, Kenneth Lutz.
Maggie is survived by her mother and father, Bryan and Jennifer Lutz; her siblings, Wyatt, Caitlin and Grant; grandparents, Ken and Brandy Tarrant, Debra and Mike Lee, Beverly Lutz and great-grandmother, Mary Anne Tarrant.
A private family graveside service will be held on Saturday, September 12, 2020. A visitation will begin at 11 a.m. and a memorial service to follow at noon at Flint Baptist Church. Sam Deville will officiate.
Services are under the direction of Autry Funeral Home in Jacksonville.