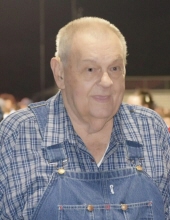 Obituary for Martin Quincy Shofner
Martin Quincy Shofner was born August 19, 1932 the first born of 9 children born to Martin Franklin Shofner and Nettie Adell Oats Shofner. He departed this life on September 14, 2020.
Martin grew up in Shelbyville, TX after graduation in 1950 he went on to serve in the Air Force during the Korean War where he served as a medic in Japan. After his return home he worked for Houston Light and Power for a while. Martin joined Houston Police in 1961 Class 25 and retired in 1982. After retirement, Martin and his family moved to Jacksonville. He then worked for Rusk State Hospital and then TDCJ till he retired from there after 14 years.
Martin enjoyed working with 4H and FFA kids at the Angleton Fair and Jacksonville show with his own kids, grandkids and great-grandkids. He enjoyed farming, gardening, raising cattle and being with family and picking up grand and great-grands in PawPaw Taxi.
He was preceded in death by his parents, Frank and Adell; sisters, Peggy Jordy and Hazel Shofner; brother, Billy Sam Shofner; grandchildren, Steven Berry and Stephanie Conway; and great-grandson, Ryker Turknett.
Left to cherish his memory are his loving wife of 43 years, Polly Shofner of Rusk; children, Davelyn Mills and husband David of The Woodlands, Kimberley Berry and husband Geoff of Rusk, Alene Shofner and fiancé Rene Soliz of Bayou Vista, Paul Shofner and wife Kim of Jacksonville; and his brothers, Morris Shofner, Carl Shofner and wife Lynn; and sisters, Clevie Cook and husband Larry, Sonya Keeling and husband Garley, and Linda Campbell. He is survived by his grandchildren Cherie Sanchez and husband James, Cody Ward and wife Bree, Krysten and Jessica Mills, Jessica Mullins and husband Greg, Matthew Reid and wife Maykala, Kirsty and Evette Arteaga, Rachelle and husband Brandon, Autumn Hollingsworth and husband Matt, Connor Shofner, Reagan Shofner. His great grandchildren are Aubrey, Grayson, Ashlyn, Jocelyne, Lillian, Lucin, Tyler, Colton, Arlo and Robin Joy, Oliver, Michael, Adriana, Brianna and Makayla.
A visitation will begin on Thursday, September 17, 2020 from 2-4 p.m. at Autry Funeral Home Chapel in Jacksonville. Funeral service will begin at 4 p.m. Graveside services will be held on Saturday, September 19, 2020 at 9 a.m. in Pryor, Oklahoma at Graham Memorial Park.
Honorary pallbearers are Cody Ward, Matthew Reid, Connor Shofner, Michael Sanchez, J.W. Carter, Joe Denison, Tyler Butler, Colton Butler, Arlo Hollingsworth, Grayson Mullins and Oliver Reid.