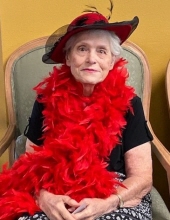 Obituary for Mary Charlotte Colby
On Wednesday, September 9, 2020, Mary "Charlotte" Colby, 84, of Whitehouse, was made whole again when she entered the kingdom of heaven. No doubt once she caught a glimpse of heaven she went running to the gates, something she had not been able to do for a long time, where she was met with sweet peace and a perfect body.
Charlotte was born on July 1, 1936 in Corrigan, to Wesley and Leona Davis. She lived most of her life in Whitehouse, Texas where she and her husband of 62 years, Ray Melvin Colby, raised their family. Charlotte treasured her roles at Glad Tidings Assembly of God and Evangel Assembly of God in Tyler, where she served as church secretary for many years and at First Assembly of God in Whitehouse. She loved her church family and the senior outings she and Ray were involved in. She also loved fishing and Texas Rangers baseball, both things she and Ray enjoyed together.
Charlotte is survived by her son, Mike Colby, and his wife Melinda, daughters, Barbara Fails, and her husband Tommy, Mary Jacobe and fiancé Eric Fox. She also had four grandsons, Chris Fails and wife Lacey, Wesley Blalock and wife, Erin, Hunter Blalock and wife Stephanie, Brady Colby, and wife Presley, along with nine great-grandchildren, Avery, Camdyn, Elliott, Blaine, Ryan, Hollis, Aaron, Aiden, Tegan, in addition to two more individuals, Hannah Fox and Zoey Mathis, who became part of the family also.
She was preceded in death by her husband and her parents.
Due to the pandemic and for other family health reasons, a private graveside service was held on Saturday, September 12th, in Whitehouse with Paul Rains. Services were under the direction of Autry Funeral Home in Jacksonville.