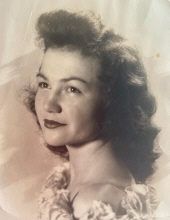 Obituary for Peggy Camille Brown
Peggy was born on August 19, 1927 in Jerome, Arkansas to William Jewel Mayhugh and Ruby Lee (Covington). She was the youngest of three children, the eldest being Kathryn "Tassie" and the middle brother, Thomas "Bubba."
Shortly after, the family moved to Beaumont, Texas where they spent many years. She graduated from Beaumont High School, attended LSU in Baton Rouge, Louisiana and graduated from Lamar University in Beaumont, Texas.
Peggy married Ralph Kilpatrick Cox in June of 1947. Together they had three children. Peggy suffered the tragic loss of her husband, yet persevered, she went back to college and graduated with a degree in Physical Education. She taught Physical Education for several years in Beaumont.
On December 16, 1955, Peggy married Glenn Roland Brown. They also had three children, bringing Peggy's total to six children, something she was very proud of.
Peggy and Glenn were active at Highland Park Baptist Church in Austin for many years. She served as a leader of the Girls Auxiliary and a daycare director. She was also a member of many women's groups in Austin including the Federated Women's Club.
Peggy and Glenn loved to travel. Some of her favorite trips were to Russia, Kenya, Austria, Canada, and The Netherlands.
She was a good athlete and an even greater sports fan. She especially loved her Texas Longhorns and held every Longhorn fan in high regard.
Peggy is survived by Peggy Gunter of Austiin, Texas, Kathy Colby (Michael Smith) of Hagerstown, Maryland, Glenn Brown Jr. of Austin, Texas, Kerri "Missy" Gannaway (Steve) of Tulsa, Oklahoma and Mike Brown (Linda Dubinski) of Anacortes, Washington.
Also grandchildren, Miles Hawthorne, Eric Hawthorne, Jordan Gunter, Travis Colby, Austin Colby (Brittany), Neal Brown, Karis Crain (Aaron), Kevin Gannaway (Beth), Natalie Brown, and Adam Brown.
She is also survived by great-grandchildren--Camille Hawthorne, Ian Hawthorne, Sabia Vanderheyden, Liam Colby, Gabrielle Colby, and Mackenzie Colby.
She was predeceased by husbands Ralph Cox and Glenn Brown and also by her son Ralph Brown.
There will be a private burial at the Griffin Cemetery in Troup, Texas as well as a memorial celebrating her life on August 19th, 2020 also at Griffin Cemetery.
The family would like to thank Gracy Woods Nursing Center for her excellent care through the years and more recently the New Century Hospice.
Peggy was one of a kind and will be greatly missed.