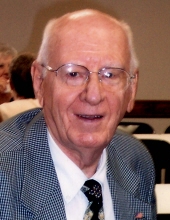 Obituary for Robert "Bob" McMakin
Robert "Bob" McMakin, age 85, passed away Wednesday, July 3, 2019 in Jacksonville. He was born May 15, 1934 in Grand Saline to Phillip and Lily (Martin) McMakin.
He and his wife, Glenda, have resided in Jacksonville since 1958. Mr. McMakin was a retired teacher and Director of Adult Education for 13 counties in Region 7 for 39 years in Rusk. He was a member of Tabernacle Baptist Church in Jacksonville, where he faithfully served as music director for many years. Bob was also a former member of the Rotary Club of Rusk.
He was preceded in death by his parents; brother, Harold McMakin; and sisters, Frances Bryant and Jeannine Pinkerton.
Left to cherish his memory are his loving wife of 61 years, Glenda (Spence) McMakin, of Jacksonville; sons, Robert Larry McMakin, Jr. of Jacksonville and Bryan McMakin of Gallatin; and granddaughter, Tiffiney McMakin of Flint. He is also survived by several nieces and nephews.
A funeral service for Bob McMakin of Jacksonville, is scheduled at 2 o'clock in the afternoon Saturday, July 6, 2019 at Autry Funeral Home Chapel in Jacksonville. Rev. Dr. Edwin Crank, Rev. James Schoenrock, and Bro. David Moore will officiate. Visitation will be from 1 to 2 o'clock p.m. Mr. McMakin will be laid to rest in a private service at Still Waters Memorial Gardens in Jacksonville.
Those honored to serve as pallbearers are James Spivey, Ronnie Odell, Wayne Beal, Kenny Odom, Jamie Newburn, and Phil McMakin.
In lieu of flowers donations may be made to the Leukemia & Lymphoma Society, Donor Services, PO Box 98018, Washington, DC 20090-8018 or www.lls.org.
Previous Events
Service
Autry Funeral Home - Jacksonville
1025 Southeast Loop 456
Jacksonville, TX 75766
Cemetery Details
Location
Still Waters Memorial Gardens
1025 SE Loop 456
Jacksonville, TX 75766