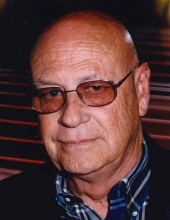 Obituary for Wilbur Glenn Chancey
A memorial service for Wilbur Glenn Chancey age 84, of Jacksonville, is scheduled at 11 o'clock in the morning Saturday, December 1, 2018 at First United Methodist Church in Jacksonville with Rev. Dr. Jack Albright and Paul Pavletich officiating. Visitation will begin at the church at 10 a.m.

Wilbur passed away November 24, 2018 in Jacksonville. He was born November 24, 1934 in Lakeland Fla. to Grande Francis and Thelma Pope Mimbs Chancey
Wilbur was a member of Trinity Episcopal Church in Jacksonville where he served as Senior Warden, Jr. Warden, Clerk of the Bishop's Committee, Delegate to Diocian Council, Lay Reader since 1968, and licensed by the Diosce of Texas as a Eucharistic Chalice Bearer. He worked at Stripling Clinic, owned East Texas Home Health Agency, worked at Thompson Funeral Home and Autry Funeral Home where he retired, and was a former member of the Jacksonville Lion's Club.
He was preceded in death by his parents.
He is survived by his wife of 56 years, Sheri; sons, Gregory Glenn Chancey and wife Dana, Todd Denman Chancey and wife Janna Lou, all of Jacksonville; sister and brother-in-law Frances and Joe Eidson of Tampa, Florida; brother-in-law Harry Lee Denman of Tulsa, OK grandchildren Raegan, Tanner, Tristan, and Will Chancey all of Jacksonville. He is also survived by several nieces and nephews.
Honorary Pallbearers will be Blake Porter, Curt Porter, Bob Legg, Ricky Richards, Will Dyess, Jack Porbeck and Tony Dennis
Rather than customary condolences, memorials may be made to Trinity Episcopal Church or the charity of choice.