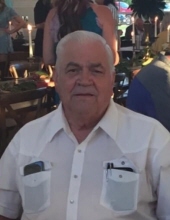 Obituary for Earl D Lawson
Today, COVID-19 yanked an amazing man from this world.

My father-in-law (Colette's Dad), passed away at 4:15 due to a COVID-19 infection classified as "very severe". Earl Lawson, though, epitomized "one of a kind"; at work, he excelled as a quality engineer, at aerospace pioneer Vought for the majority of his career. At home, he raised three amazing children as a father; his oldest, Jevette, probably stamped some of your transcripts as a registrar at an East Texas junior college; the middle child, Randy and his only son, followed in his footsteps as a quality engineer at Vought; and the youngest, Colette, who despite amazing acumen as a musical prodigy with fully scholarshipped college education in music to boot, migrated into a career in Accounting where she's an expert cost accountant and a controller for manufacturing plants.

Earl never missed the chance to brag about (and also pick-on) all his children's accomplishments, and never missed mentioning how absolutely integral Doris, his wife of almost 60 years, was to him holding droves of children's success stories to brag over. His den's 4 walls lack any blank space, as his children's pictures, awards, and other special moments cover the sheetrock; dutifully serving as a narrative of the great family a loving mother and father raised over the 26+ span of years his children lived under his roof. All said and done, he earned his grandfather badge from over 10 grandchildren and great-grandchildren who lovingly called him "Pappy".

While he certainly worked on many other projects in his career, (and his last tenure at the local hardware store certainly underutilized his talents) he was most notably on the team of 750 engineers who designed, built, and shipped to Palm Springs for assembly, the intermediate wing section of the Northrop Grumman B-2 "Spirit" stealth bomber. That's right, he worked on the Stealth Bomber, the world's most technologically advanced and complex aircraft—records that were only recently surpassed. His service to this country can't be underscored enough, due to the strategic importance of the B-2's role in our military; and to serve his country he would pile into a van with about a half-dozen other East Texans well before sunrise every Monday morning to travel to DFW for the week's work, returning home on Friday afternoons. Yet, seemingly never missed a match, game, recital, performance, or awards ceremony; he had stacks of Beta and VHS tapes of every one of them, too.

Unfortunately, the stories of how slow, difficult, and painful death is from COVID-19 aren't exaggerated. A rather severe and systemic UTI masked the first stages of his illness, and when non-UTI symptoms didn't resolve, his internist dispatched Earl to Tyler-TMF's ER, where an antibody test quickly confirmed everyone's worst fears--that he harbored COVID-19 for days. The attending physicians wasted no time waiting for the slower swab-based PCR confirmation test to return from the lab, and began the newly developed protocols to treat someone with severe or very severe COVID-19. The next morning, he received gamma globulin (or plasma of someone who's recovered from the disease), the experimental remdisivr antiviral drug, atop all they started the day before. He was also immediately and entirely isolated from everyone, from day one of admission. An action unbearably painful for all involved. Doris provided me with access to his online records, to lean on my medical background to help the family understand what nurses and physicians were telling them. We were therefore able to watch his progress from time-to-time (as the portal doesn't update real-time). Sadly, the physician's notes and serial laboratory studies showed not only a bleak picture, but that the gamma globulin and remdisivr failed to halt or reverse the progression of the disease. Over the course of 11 days, the 5-7 key lab metrics used to measure the course and damage of the disease consistently worsened; his lungs directly mirrored the laboratory's numbers, as he slowly lost the ability to maintain survivable oxygenation levels. Several days in, he was informed of and forced to face the very grim numbers gathered from New York and Europe, which showed that essentially no-one (97.2%) intubated and placed on a ventilator at his age recovered, and he declined intubation to have some control over the now-numbered days of his life. To accept the inevitability and irreversibility of the virus' fate without your family being around—even in an adjacent room, undoubtedly smacks of unimaginable horror and terror.

Earl, as titan of a man he espoused, also unwaveringly cared for both his and Doris' parents at the end of their lives, no matter what. For all of us in his family to find ourselves impossibly constrained from returning this unconditional love in his last days (due to mandatory quarantine and total isolation at the hospital) forms a story of emotional despair and torture which we endured--one words cannot describe.

I've never met a more patient, jolly, and interesting man in all my days, and he's absolutely the man I hope Zane matures to be. I believe this may confer a man's greatest legacy on this planet; the compliment that other fathers hope their son blooms to epitomize the essence, character, and life of that man.

Doris, Jevette, Randy, Colette, their spouses and all the grandchildren would appreciate your prayers for God's grace and peace in the difficult days ahead.

A Memorial service is scheduled for 2 o'clock in the afternoon, Sunday, July 12, 2020 at Autry Funeral Home Chapel in Frankston.


Previous Events
Service
Autry Funeral Home - Frankston
East 379 Pine Street
Frankston, TX 75763