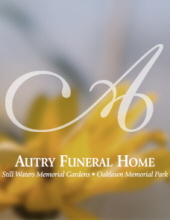 Obituary for Lorane Sparkman
A graveside service for Lorane Sparkman age 97, of Frankston formerly of Rusk, is scheduled at 2 o'clock in the afternoon Saturday, January 13, 2018 at Cedar Hill Cemetery in Rusk. Services are under the direction of Autry Funeral Home in Jacksonville.
Mrs. Sparkman passed away Thursday, January 11, 2018 in Tyler.
Lorane was born September 12, 1920 in Rusk.
She was a nurse in the U.S. Army and served in WWII during the Normandy invasion.
She was preceded in death by her parents, T.J. and Bertie Sparkman; one sister and three brothers.
Left to cherish her memory are numerous nieces, nephews, great nieces and great nephews.
Rather than customary condolences, memorials may be made to Hilltop Baptist Church, 10980 Hillside Dr., Frankston, Texas 75763.