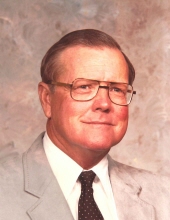 Obituary for Gilbert Dean Ezell
Gilbert Dean Ezell went home to be with his Lord and Savior, Jesus Christ on Friday, August 31, 2018, in Jacksonville,
A funeral service for Dean Ezell, age 83, of Jacksonville, is scheduled at 10:00 o'clock in the morning Wednesday, September 5, 2018 at Autry Funeral Home Chapel in Jacksonville. Rev. David Jimerson, Rev. Larry Harrelson and Rev. Stephen Davenport will officiate. Mr. Ezell will be laid to rest at Resthaven Cemetery.
Dean was born June 16, 1935 in Jacksonville to Ira Gilbert Ezell and Erma Boone Ezell.
Mr. Ezell served in the U.S. Army for three years as a medic while in the military and was in Korea, and also stationed at Fort Smith, Arkansas. He retired from the pipeline industry. He enjoyed his profession, as well as all of the travel involved. He was fortunate to travel over much of the U.S. Later, upon returning to Jacksonville, he retired from Jacksonville Independent School District in the department of transportation. Dean was a member of the Enterprise Baptist Church in Jacksonville. He loved his family, spending time outdoors, was very social, and liked to talk.
He was preceded in death by his parents; and a step-grand-son, Josh Powell.
Left to cherish his memory is his beloved wife of 21 years, Linda Jimerson Ezell of Jacksonville; step-daughter, Kamye and husband, Paul Powell of League City; step-son, Kevin Mead of Jacksonville; sister, Wanda (Betty) and husband, Wilmer Morgan of Silsbee,; mother-in-law, Allie Faye Busby of Jacksonville; step-grand-daughters, Christina and husband Cody Hatch of Utah, Ashley and husband Jake McKnight of Bullard, Madison and husband, Dylan Codner of Texas City; step-great-grand-children, Faith, Lindsey, Brooklynne, and Cody Morris, Myka and Kyelar Murphy, Cooper McKnight, Zaxton and Beckham Codner, Gracie Robertson. He is also survived by many nieces and nephews, cousins and friends.
Pallbearers will be Shannon Ezell, Scott Ezell, Shawn Ezell, Wendell Morgan, Nicholas Morgan, Jack Lloyd, Paul Powell, Patrick Ezell and Kevin Mead.
Visitation will begin on Tuesday, September 4, 2018 and friends are cordially invited to visit with the Ezell family from 6 to 8 o'clock in the evening at Autry Funeral Home, Jacksonville.